When you are responsible for planning the details of a large business or religious conference, you want everything to go off without a hitch. Experiencing some type of mishap during your conference can be embarrassing, and it may make your guests question your level of professionalism. At the New Psalmist Retreat & Meeting Center (NPRMC), we pride ourselves on being the second largest meeting and conference center in Baltimore, and we know a thing or two about how to host successful, informative conferences. Check out five of the most commonly occurring conference mishaps below and how you can avoid them, then request your proposal from our team today!
Conference Center Blunders to Avoid
Lack of Parking
Your guests' experience and perception of your event begins from the moment they arrive in the parking lot. It can be difficult to find parking in the Baltimore metropolitan area, and the last thing you want is for your guests to have to park a mile away from your event. Finding a conference center in Baltimore with valet parking will ensure your guests arrive at your event comfortably and in red-carpet style.
Not Enough Space
It is very important to have a good idea of how many guests will be attending because you want to have enough space and seating to accommodate everyone comfortably. If your guests don't have enough room, or worse, if some of them are left standing, this could be a great distraction that is difficult to overcome. Additionally, too many people in one space is a safety hazard, and no one wants that.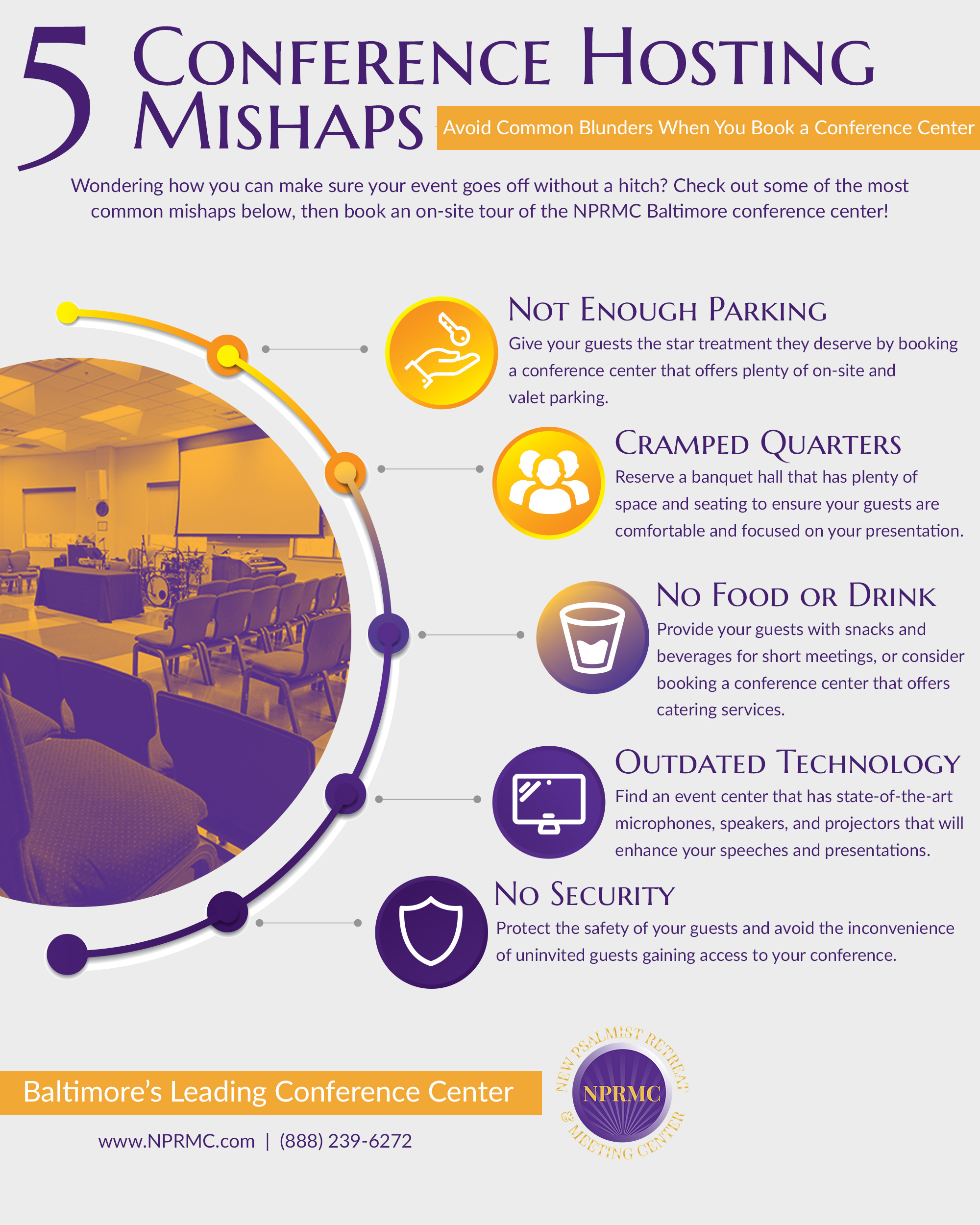 No Food or Drink
Your guests will be looking forward to delicious food and drink almost as much as they'll be anticipating your keynote speech. It is a good idea to offer some type of snack and light beverage, even if your event is only a couple hours long. For longer, more elaborate affairs, you'll want to find a conference center in Baltimore that offers affordable catering services so as to not leave your guests hungry or thirsty.
Outdated Technology
The highlight of your conference should be the presentation and accompanying speeches that are given throughout the event. Outdated technology can make it difficult for you to give your presentation, and it can affect your guests' experience. In order for your guests to hear you and see visual references clearly, your conference center should have high-tech microphones, speakers, monitors, projectors, and other audio/visual equipment.
Lack of Security
Your guests deserve to attend a conference without worrying about their safety. When it comes to having security for a conference, no one likes to think about why such a service might be needed, but they are always glad they have security officers when the need for them arises. Booking a conference center in Baltimore that has security can help prevent any trouble caused by uninvited guests while keeping you and your guests safe.
Tour Our Baltimore Conference Center!
Are you ready to discover how easy hosting your conference can be? If so, then NPRMC is here and ready to help! Our Baltimore conference center has everything you need to host a worry-free event, from valet parking and catering to security and state-of-the-art audio/visual equipment. You and your guests will love our rooms and amenities, and you'll never have to worry about not having enough space. Come on by our facility — we offer on-site tours every Thursday from 11:00 a.m. to 4:00 p.m. and we would love to meet you!